Identification of the need
Adapting and anticipating are the pillars on which SPK Innov is built. Our goal is to provide global, reliable, profitable and environmentally-friendly solutions that respect users and the environment while taking into account our customers' desire for productivity and differentiation.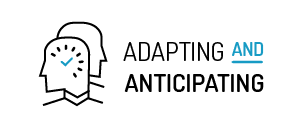 Advantages
Our expertise and experience in the field of deburring and finishing, in general, allow us to provide original and adapted solutions based on technical features and adaptability.
Research and development
Technique and treatment quality
We constantly strive to improve equipment as well as the treatment performed. Our concern for quality and speed demands that we develop technicality and research around abrasives, which play an important role in our approach. We search for versatility and durability in the media used.
Productivity
The various patents that we have filed testify to our ability and willingness to meet demands as closely as possible, thanks, for example, to developments such as two-way processing, our automated warehouse system and thickness detection and measurement.
Maintenance et machines connectées
Ambition: enhanced monitoring of machines and cost savings by remotely solving technical problems on installed machines.
Objective: Provide information in real time regarding deviations and follow-up to migrate from a curative to a preventive after-sales service approach.