Intro Services
This service is dedicated to the supply of consumables, spare parts and interventions... and a whole lot more. In order to provide a global service and in compliance with its commitments, SPALECK Industries aim is to provide a complete service through SPK SERVICES.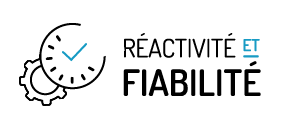 Identification of the need
Responsiveness and reliability are SPK SERVICES' core values. Our team is committed to listening, responding and being present at all times in order to guarantee your production.
Advantages
Our structure remains reasonably sized in order to provide all the required agility. Technical and sales teams work hand in hand to guarantee responsiveness and everyone is committed to giving their best to ensure your satisfaction.
Complete service
A testing and subcontracting centre on site
A real experimentation area, the test centre allows several technologies to be tested and the most appropriate solution to be validated thanks to the machines and media made available. Once the technical response has been provided, the area can be used to conduct full-scale tests in order to design the installation.
A fleet of demonstration machines is also available for rental in the case of a one-off production operation or pending investment.
Subcontracting is also an ideal way to qualify a process for certain orders.
Profitability study
Finishing remains an operation that can be performed manually. Based on this principle and above all in order to uphold ethical values, we must be able to demonstrate the return on investment of the proposed solutions. This is why each proposal is accompanied by a profitability study so as to compare the current solution with our proposal. The interest: Validate a proposal both technically and economically.
After-sales service with the supply of consumables and spare parts, intervention, retrofitting and hotline
Produced since 1978, the models have stood the test of time and require consumables and spare parts. We are able to supply components and consumables for SPALECK INDUSTRIES, FLADDER installations as well as for CLEAR, MECA MONDIA, TOPERMATIC, DMF brands. We are able to conduct retrofitting operations on all these brands.
Our technicians are at your disposal by phone or on site to assist you with interventions. In emergency cases, we also work with a network of technical personnel capable of being on site as soon as possible.
Training to ensure support over the long-term
Our desire is to share the evolution of our products and guarantee the best use and maintenance over the long term. This is why we are able to provide training either at the time of installation or at a later date, for example when the users have changed. Our various research allows us to develop your finishing technique; it's this know-how that we would like to share.
Second-hand Equipment
If you're interested in the models currently available or to put your equipment on sale, we are at your disposal to assist you in this process. Don't hesitate to send us your request.